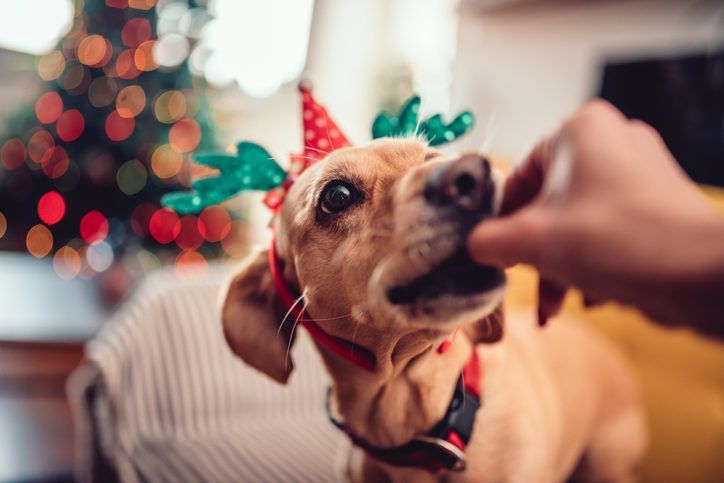 The holidays are here and for many, it's a time of festivities, laughter, company, food, and libation!
We try to cram in our daily responsibilities along with planning for family and friends, gift buying and wrapping, sending off cards, cooking, cleaning, and holiday parties.
During this busy, crazy season, it's important to remember that the holidays can be an uneasy time for your beloved canine and feline, who pick up on the stress you are feeling.
To make this holiday season the best for you and your fur babies, here are some holiday tips for your dog and cat.
1. Try to keep a similar schedule as the one you currently have with your dog or cat. When schedules change, dogs and cats can experience stomach issues, have accidents that wouldn't normally occur, or feel agitated, worried, or anxious.
2. Give your dog or cat a safe place to hide from Aunt Margie with the overdone lipstick who wants to kiss your kitty or Uncle Lu who may not understand that feeding your dog tidbits from the table isn't healthy for your dog or cat. As much as we love being around family and friends, that doesn't mean our furry friends do, too.
A kennel provides dogs a natural environment to feel safe and secure. Filled with a favorite blankie, toy, or treat, it's a haven from all the chaos they feel.
While some cats may feel comfortable curling up on the couch in between Grandpa and Uncle Benny, many cats like the safety of hiding under a bed, a dresser, or in a closet. This safe space allows them to come out on their own time…or not come out at all. But by giving them a safe place for comfort, you avoid the possibility of them being injured by many well-meaning guests, running away, or fear biting.
3. Arrange for responsible pet care in advance if you are traveling. Whether you hire someone to come into your home or need to arrange for dog boarding or cat boarding, plan well in advance. The best pet sitters and dog boarding and cat boarding facilities book up quickly!
4. Avoid feeding your dog or cat food that is not part of their regular diet. While it's tempting to want to indulge Doggie or Kitty with the festive food that are a huge part of the holiday season, many of the foods we eat during the holiday are poisonous to our pets or can cause digestive issues. For a list of foods to avoid during the holiday, click here.
5. Don't forget your best and most loyal friend during the holidays. Treat your dog or pet to veterinarian approved treats, toys, a grooming appointment, or a playdate at The Ranch Pet Resort and Spa.
Afterall, your pets deserve the very best, even if they do make Santa's naughty list!
Holiday Dog and Cat Boarding at The Ranch Pet Resort and Spa
If you are looking to board your dog or cat at The Ranch Pet Resort and Spa for the holidays, book now! We fill up fast! There's a reason we are the number one veterinarian recommended pet care provider!
Check out our Google Reviews!