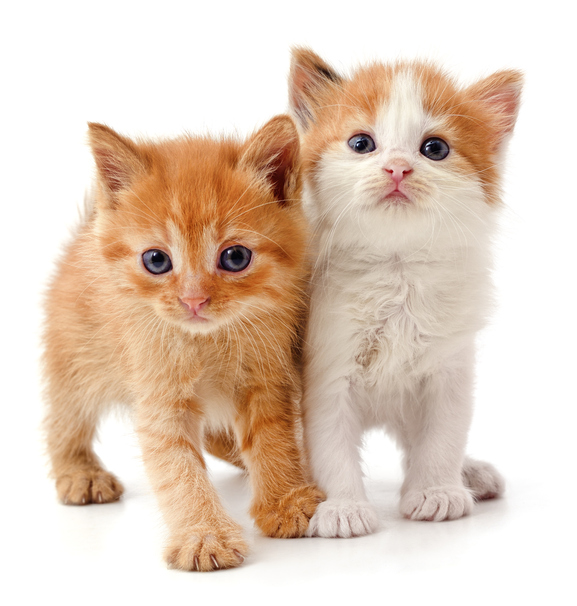 It's kitten season, and that means there are an abundance of cute kittens needing furever homes. Shelters and rescue organizations are full of darling kittens in all colors and personalities, each one deserving a home.
The decision of which kitten to choose can often be overwhelming, and an emotional tug-of-war with the heart, especially when there are a pile of kittens sleeping, wrestling, or meowing at you through cages or plexiglass.
The responsible pet owner also knows that consideration needs to be given to meeting the kitten's needs, from acclimating them to being alone for the first time, providing the emotional comfort they crave, taking the time to play with them, stimulating their playful nature so they don't get bored and destructive, and keeping them happy and healthy for as many as 20+ years.
So what do you do when you find multiple kittens vying for your affection and attention? What do you do when you just can't decide between a pair of adorable kittens? You adopt both!
Reasons to Adopt a Pair of Kittens
We can certainly understand the anxiety and concern that may come from adopting a pair of kittens, but in reality, two fur babies is better than adopting just one, and here's why.
Exposing a kitten to a new environment, in this case your house, is stressful and scary for the kitten. A sibling can make the transition more comfortable and soothe the kittens. A well- adjusted kitten means a happy adult cat.
Kittens can bond in pairs. Separating a bonded pair is emotionally devastating for the kitten. Sometimes the two kittens depend on each other to bring out the best in the other cat. Or, sometimes a shier kitten can learn from the more outgoing kitten and then you have two well-adjusted kittens.
Grooming a friend creates bonding. Cats groom themselves frequently. A pair will often groom each other creating a healthy disposition, a clean cat, and a natural way to keep each other company.
Kittens play a lot! Sometimes, kittens play at night which can keep you from getting a good night's sleep. When two kitten have each other to play with, they are less likely to seek attention from you, leaving you to slumber peacefully.
A duo of wrestling kittens provides a lot of fun and laughter. This momentum is not only good for the kittens to get exercise, it also provides healthy emotional support for you. Who has a bad day when kittens wiggle their bums and stalk each other?
Kittens can share toys and beds! Playing ball or chasing a fluffy toy mouse is equally fun when it's done with a friend! Cat beds are equally meant to appeal to a pair of kittens who want to nap close together after a long day of playing!
Kittens teach each other behaviors that their human owners cannot. Kittens learn how to play and hunt from each other. Have you ever tried to teach a kitten that biting is painful? We feel your throbbing finger! Kittens can correct each other's behavior in ways humans cannot.
Cats live in colonies and are not solo animals. Therefore, bringing home two kittens provides a more natural way to live than just being a solo cat.
Your current cat may not like an annoying little kitten. Just as older brothers and sisters can sometimes get annoyed by the needy little brother or sister, your older cat may not appreciate you bringing home a new kitten and expecting them to get along. Starting with two kittens eases the burden of having to introduce a new kitten to your current cat and eliminates the issues that may come with that new dynamic.
You have saved two lives instead of one, created double the cuteness, and may have just saved your couch or chair from the destruction of a bored kitten!
Considerations for Adopting Two Kittens
As long as you are able to afford the expense of feeding two cats and the medical costs that come with having multiple pets, it might just as well be in your favor to adopt a pair of kittens this kitten season.
Traditionally, you would want three litter boxes, one for each cat plus an extra. These can be placed around the home, garage, mudroom, bathroom, etc., and when cleaned as they are used, do not create excessive odor or work. Getting in the habit of keeping boxes clean is a huge time saver and game changer!
Need a Cat Sitter? Look No Further Than The Ranch Pet Resort and Spa
The Ranch Pet Resort and Spa offers cat boarding! Vacation in peace knowing your cat will be taken care of and staying in a most luxury cattery. Picture a four-level condo far, far away from the annoyance of dogs! With comfy bedding, soothing music, staff on premise, and cat whisperers who provide all of the love and affection your would provide, you can enjoy a guilt-free vacation!
Click here for reservations!