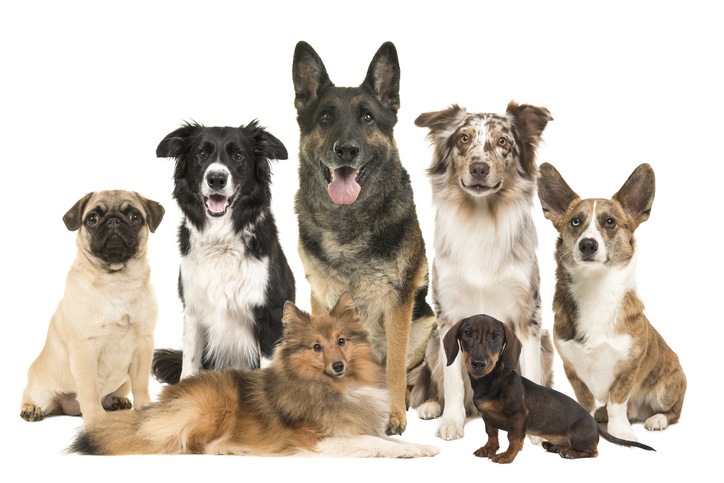 66% of U.S. households own a dog (Forbes 2023). With so many dog breeds available, how can you choose the right dog for you?
Research Different Breeds
The first piece of advice The Ranch Pet Resort and Spa would give you regarding bringing a dog into your household is to make sure you research the breeds you are considering. Different dogs have different needs; make sure you are able to meet their needs and they can meet yours.
Consider such traits as activity level, size, height, weight, grooming needs, need for attention, affection, attachment, or a job, intelligence, physical traits such as hair or fur, long snout or short stout with wrinkles, bulging eyes, erect or floppy ears, prey dog or low prey drive, child friendly; loyal or more independent; or vocal or more quiet just to give some suggestions.
You can get advice online, by asking people who own the dog you want, getting information from a reputable breeder or rescue, speaking with your vet, visiting dog shows, your local dog shelter, or pet adoption fairs.
Consider Space When Choosing the Right Dog for You
Some dogs need a lot of room to run and roam and would fare better with a large yard, while others have low exercise needs and could do better in an apartment, condo, or townhome.
Large dogs take up a lot of space in the home, so make sure you are comfortable sharing your home with a big bestie. Big dogs need big beds whether they sleep on the floor or in bed with you!
Smaller dogs can be content in smaller dog beds and definitely take up less room under your covers.
Crates work really well for dogs, as they are used to sleeping in dens in the wild. But make sure the crate is large enough for the dog to fully stand up and turn around.
Dogs love to ride in cars, so if you're planning on adopting a Bernese Mountain Dog or Mastiff, a car's back seat or rear area would work best! Little dogs often have their own car seat beds and take up little space. In either case, it is a good idea to seatbelt your dog.
Calculate Expense- Dogs are Not Cheap
Whether you are getting a dog from a breeder, rescuing from the shelter, or getting a dog from a friend, all dogs cost money. There is typically a fee for the dog. If a dog doesn't already come with a full series of shots, he will need his vaccines.
To avoid unwanted pregnancy and reduce the risk of cancer in dogs, spaying or neutering your dog is a good idea. Check with your local veterinarian as costs do differ based on weight and other considerations.
Dogs need food all the time! Whether your dog prefers dry, wet, or homemade, you need to budget for food.
Toys, collars, leashes, training paraphernalia and classes, puppy pads, nutrients, vitamins, calming treats, bedding, treats, dog bowls, poop bags, medicines, pet insurance, boarding, and pet sitting, are not cheap! Be prepared to spend a lot of money before you even get your dog.
Emergencies might occur. This is an unexpected expense that can cost you a lot of money, so factor that in when you are calculating your expenses.
Don't Forget Pet Care
Pet care does not just mean routine maintenance of vaccinations. Some dogs need frequent grooming, brushing, or bathing to keep them healthy and comfortable.
Some dogs have medical issues that require a monthly prescription or routine administration that adds to their care.
Routing dog maintenance is important, so don't forget to take your pet to your favorite veterinarian.
Consider The Ranch Pet Resort and Spa for Your Dog's Needs!
The Ranch Pet Resort and Spa is excited for anyone who is choosing a dog. As dog lover's ourselves, we know how much joy and happiness a dog can bring to a person.
If your new dog needs behavior lessons, doggie daycare, grooming, or boarding, The Ranch Pet Resort and Spa would be happy to assist you!