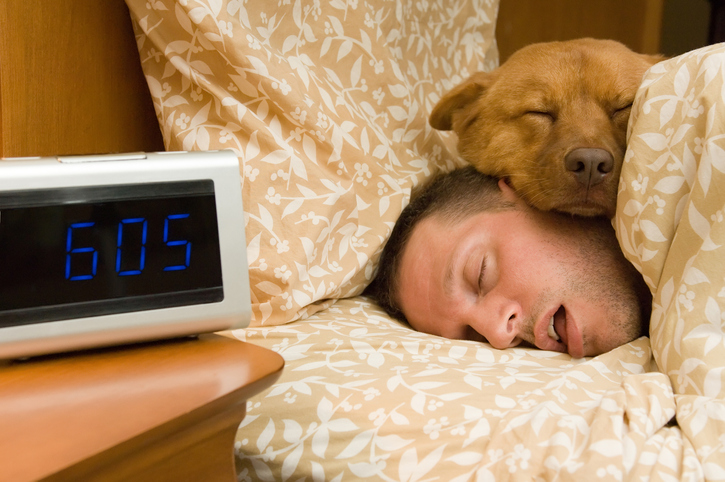 Studies suggest that sleeping with your pet has health benefits for you, but have you ever considered the benefits dogs and cats receive while sleeping with their humans?
As soft, comfy, fluffy, and adorable that pet bed is that you bought for your dog or cat, chances are, your pet would prefer to sleep with you!
Studies Show Dogs and Cats Benefit from Sleeping with Their Owners
Good pet owners are in tune with their pets' needs of human comfort, interaction, love, and affection.
When it comes to bedtime, many pets would prefer to sleep with their humans and the reasons make sense to the pet lovers at The Ranch Pet Resort and Spa.
According to Dr. Dana Varble, the chief veterinary officer for the North American Veterinary Community, "In general, it is a very good thing for animals to sleep with their people. Pets who share their human's bed tend to have a higher trust level and a tighter bond with the humans that are in their lives. It's a big display of trust on their part." (source: CNN.com)
Medical Benefits for Dogs and Cats who Sleep with their Humans
Another reason for pets to sleep with their owners is medical. Oxytocin and dopamine, hormones that produce feel-good feelings in animals as well as people, are increased in pets who are closely bonded with their humans.
If your dog has anxiety or suffers from stress, a medical condition, or old age, it may be helpful for them to fall asleep next to someone they trust and love. The close physical contact relaxes the anxiety they feel and eases the stress they feel.
To Sleep or Not to Sleep with Your Dog or Cat?
The choice whether to sleep with your dog or cat is ultimately up to you…or is it? As many times as dog or cat owners try to sleep with their dog or cat next to them in beds or cat trees, boxes, crates, comfy pillows, blankets with fish on them…well, you get the idea…it's sometimes a failed effort.
Many dogs and cats naturally crawl on the bed or, in some cases, under the covers, to sleep with their owners.
The temptation to sneak onto the bed while humans sleep is more than many of our dogs and cats can resist. After all, the crook of a knee, the soft neck of our best human, or even the face of our best cat-loving person is just too much for our pups and kittens to pass up.
If Your Dog or Cat Sleeps with You, Consider Yourself Loved
As many of our dog or cat loving clients realize, their best furry friends do not want to be without their loved ones, especially at night.
So, if you wake up to soft puppy breath, the snoring of an aging four-legged canine, or the soft paw or even claw of a finicky feline, consider yourself blessed.
You have been among the numerous pets who have chosen their person to drift off to slumber with. May sweet dreams of fish swimming up stream, balls in the open field, and the sound of crashing beach waves fill your mind, heart, and soul during the night.
Choose The Ranch Pet Resort and Spa to Ease Your Pet While You Travel
The staff at The Ranch Pet Resort and Spa has a special place in our heart for your dog or cat when you travel.
We take extra measures to make sure your pets fall asleep feeling loved and cared for when you are not there to tuck them into bed.
Our popular story time is a hit among the guests who board with us. Dogs who are read to drift asleep in the lap of our staff and wake up feeling refreshed and ready to begin the day. We even talk in different voices, show pictures, and read the story over and over!
If you are interested in having The Ranch Pet Resort and Spa bring story time to your pet during their stay with us, please let us know! It is our wish to make sure your pet is loved during its stay with us!
Sweet dreams to all!
Make your reservations here!