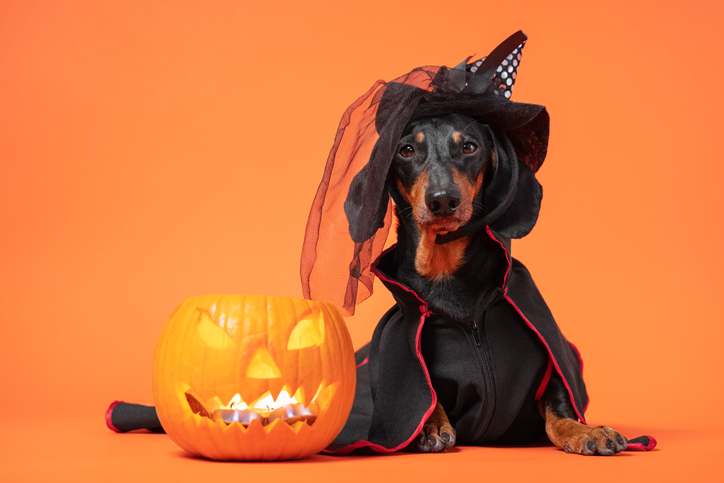 It's October and that means spooky good fun for both hoomans and the dogs of The Ranch Pet Resort and Spa.
With so many exciting parties and food literally at the drop of a hat or hand or cute pumpkin pail, our October Bowser Report is full of tips and reminders to keep us safe and happy and your carpets diarrhea free!
Gentle Reminders About Treats During Halloween and Keeping Dogs Safe
While two-leggers love to indulge in chocolate delights, peanut butter with chocolate, and other sugary treats, let's remember that candy can be harmful and even deadly to dogs.
Depending on the type of dog and the amount ingested, chocolate is one of the most dangerous foods that dogs can eat.
If your dog eats chocolate, he can suffer from any or all of these signs: diarrhea, vomiting, increased thirst, excessive urination, racing heart rate, panting, or restlessness.
Even the most well-meaning hooman may try to keep chocolate treats away from us dogs, but some of us are very clever and conniving when it comes to finding food we are told we must not eat.
If you think your dog has ingested chocolate, reach out to the animal poison control. Symptoms may take hours or days to develop, so it is always better to be safe by contacting your local poison control.
For reference, you can keep this information handy ASPCA Animal Poison Control Center Phone Number: (888) 426-4435.
Halloween Can Be Scary for Dogs for Many Reasons
Please know that we dogs aren't always the barking protectors we sometimes are known for. The truth is, we don't understand why all of these little people come to the door all dressed up and ask for candy.
While some of us eagerly greet these strange hoomans, many of us would feel much safer closed off in a room or in our crates.
Please take care of us, especially if this is our first Halloween or if we can be unpredictable. An open door is an invitation to some of us to run away or follow a group of "trick-or-treators" whatever that means. Our risk of getting injured or hit by a car increases with this unpredictability.
Also, while most of us love our walks, it can be super scary to walk around with all of the noise, commotion, and spooky decorations. If we feel scared at all, if you think we might try to escape from our collars or leashes, bite at anyone wanting to pet us, or get frightened and run off, please leave us at home!
Safe Costumes are Awesome!
We took a poll and while some of the not-so-fun dogs prefer not to be dressed up in funny hats or costumes that make people laugh when we run, many of us love to wear safe costumes!
We want to remind you to please choose outfits that are comfortable, allow us to move naturally, relieve ourselves, and not choke on small buttons or parts that can easily be chewed off.
What's Halloween without us dressing up?
Halloween at The Ranch Pet Resort and Spa
Monday is Halloween, and for all of us dogs who get to board or visit for doggie daycare, we are encouraged to dress up! While there won't be any formal Halloween festivities, we are encouraged to come in costume!
Based on some of the previous years' costumes, we are in for a Howling good time!