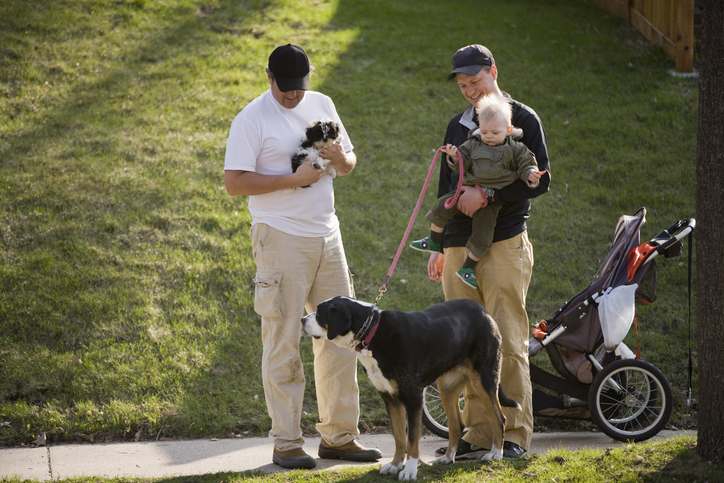 A new study by Ohio State University finds that dogs deter crime and make neighborhoods safer, especially when neighbors trust each other.
Let's consider the noise any dog makes when it barks, and why it barks. Dogs bark to alert us of danger, an intruder, a moth, bird, UPS carrier, squirrel…you get the picture. The commotion a dog makes for any reason deters criminals from committing crimes and makes neighborhoods safer.
So, the next time you get upset about your neighbor's dog barking, remember, he is scouting the neighborhood for mischief so you can sleep peacefully!
Dog Walkers Promote Trust in the Community
Listen, we dogs know that people who walk dogs are often some of the friendliest people in the neighborhood. When neighbors take time to get to know dogs and their owners, a bigger trust develops.
These dogs walkers become the eyes and ears of the community and are sometimes the first to be alerted to something "not quite right." The suspicious car that circles the neighborhood; the new crowd of people walking the street; and the misplaced truck that only stops at homes with packages become very noticeable to the dog walkers who are very aware of the normal happenings in their neighborhood.
When something in the neighborhood is unusual, credit for noticing can often be given to the local dog walkers and their dogs!
Neighbors tend to trust the eyes and ears of the dependable dog walkers who get to know not only the neighbors, but their cars, their comings and goings, and their property.
Here's a shout out to the dogs who insist on being walked and taking their neighborhood dog watch duty seriously!
Dogs Bring Health Benefits to Humans
It's long been argued that a dog can "improve mental well-being, decrease the risk of cardiovascular problems, increase physical activity and even make you more attractive to others" (source).
Anyone who has ever owned a dog or two or three might also add that owning a dog increases the owner's overall happiness and decreases stress or anxiety. The Ranch Pet Resort and Spa also reports that sleeping with your beloved canine causes a deeper, more restful sleep.
Now we dogs at The Ranch Pet Resort and Spa can celebrate what we already knew: owning a dog is awesome!
Consider Adding a Canine to Your Crew
The Ranch Pet Resort and Spa is committed to the health, safety, and well-being of your dog. If you are considering adding a dog to your family, we offer dog boarding, doggie daycare, dog grooming, and dog training.
The shelters are full of dogs and puppies who need furrever homes. Please considering adopting a dog from your local shelter and saving the life of the dog, yours, and your neighbors.