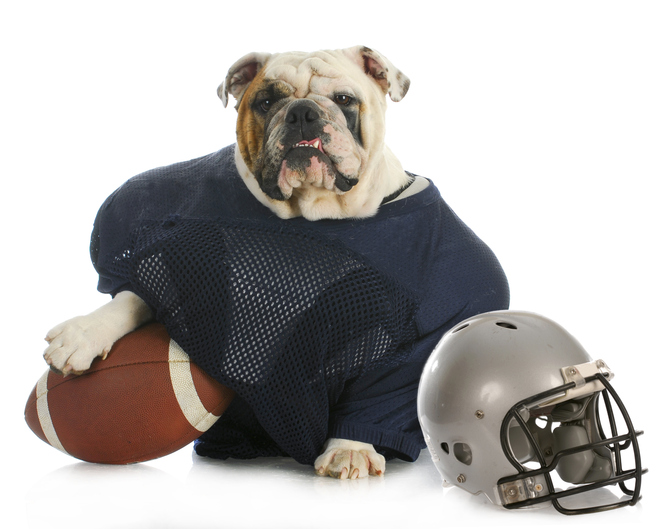 The biggest event of the year is upon us as Puppy Bowl 2023 revs up for its third year at The Ranch Pet Resort and Spa.
Word around the locker room is that the Bigs and Littles have some new plays to bring the house down! Could we have a better Puppy Bowl than the last two years?
The Countdown is on to Puppy Bowl 2023
On February 8th, 50 of the cutest, fastest, most agile and athletic dog athletes will be competing against each other during Puppy Bowl 2023.
This wildly popular event pits Bigs vs Bigs and Littles vs Littles in the greatest football game in the Tri-Valley.
Goldens take on shepherds; min pins wrestle jack russels; the refs make the calls; the crowd goes wild; everyone has the best time during Puppy Bowl 2023.
Sign Your Dog Up Today for Puppy Bowl 2023
Puppy Bowl 2023 will take place on Wednesday, February 8, 2023. All doggie care customers are eligible for the event. A $15 charge will help with the fee to pay the refs (we are kidding here! We can't avoid any conflicts of interest!) and offset the costs incurred with this fantastic and very popular event!
Sign up for doggie daycare on Wednesday, February 8, and let us know you want your dog to be part of Puppy Bowl 2023!
Top Five Reasons to Sign Your Dog up for Puppy Bowl 2023
All the cool dogs are doing it, and we don't want your dog left out! Dogs will be grouped in compatible teams so even if your dog isn't an athletic rockstar, there's room for everyone in our Puppy Bowl game!
Every dog wants to be named MVP, and this year is no exception. The dogs in daycare are already practicing their moves and groves, their dodges and dives, their jumps and jives; it's going to be tough picking an MVP but at Puppy Bowl 2023, there's always one hero who stands out above the crowd. Will it be your dog? Sign up now for Puppy Bowl 2023!
Awards for water boy, water girl, and MVP Dog and Puppy will be given. Who doesn't love to be recognized for their achievements?
Prizes will be given out, and we hear the prizes are amazing!!!! Don't miss out! Sign your dog up today for Puppy Bowl 2023.
All dogs who sign up will be decked out in Team Swag Bandanas. Now, we know that sometimes dogs get athlete's fright and simply poop out (literally sometimes); conk out; get put on IR list; never get out from on, off, or under the bench; or just don't feel like playing. We understand, but everyone wants to feel like part of the team by being decked out in Puppy Bowl 2023 swag bandanas. Reserve your spot today!
Watch Puppy Bowl from Facebook
When athletes are preparing for the Big Game, they can't be distracted by their fans! But The Ranch Pet Resort and Spa knows you want to be a part of the action of Puppy Bowl 2023, so we post videos of the day's events!
Tune in to Facebook to see Live Events as they unfold during Puppy Bowl 2023!
Do not miss out! Space is limited, so sign your dog up today for Puppy Bowl 2023!