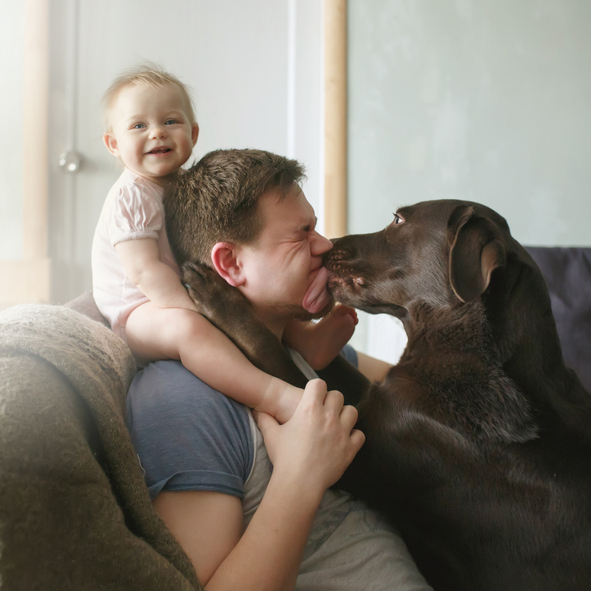 Hey, Guys! Father's Day is coming up, and we know just what Dad wants for his special day! We've compiled some doggone Fun for Dad in Livermore on Father's Day!
What your Dog Dad Really wants on Father's Day
It's awfully tempting to wake Dad up on Father's Day with our usual routine: licking his face until he gets out of bed; doing zoomies or running circles until he gets our leash to go for a walk; pawing his face or jumping on him until he puts down the paper and cup of coffee to feed us; placing our soggy ball or favorite toy on his lap until he gets up to play fetch; staring at him with our adorable eyes and wagging our tail until he pets our bellies; or making Chewbacca-like noises until he opens up the treat cabinet.
But this Father's Day, let's give Dad what he really wants! After all, this day is about celebrating what a great Dad he is! So chill out on getting dad up early; let him sleep in; get the kids to take care of us for the day; and spend the day curled up next to him dreaming of how great of a Dad he is!
Livermore Events for Father's Day
We live in such a beautiful area, why not treat Dad to some Livermore events for Father's Day? Here are a few doggone great suggestions:
"The annual Fathers Day Picnic at Retzlaff returns Sunday, June 19th! Enjoy an afternoon with Dad, family, and friends (and wine) listening and dancing to the super fun Luna Fish band!
Admission is ONLY with a pre-reserved picnic table for seating up to six adults and kids.
Grounds open at 11:30 am and close at 4:00 pm."
Purchase your tickets here.
Father's Day at McGrail Vineyards and Winery
"Join us on Father's Day for an afternoon full of time with loved ones, award winning McGrail wines, food from Dat Q BBQ, gelato from Aldo's Gelato, and live music from Plan B! We will have a photo booth for guests to enjoy! Reservations are recommended, but walk-ups are welcome. Please bring lawn chairs and blankets to make yourselves comfortable."
The event takes place on June 19 from 12:30-4:00 pm.
Heavy 4/70's at R Place Music Club, Livermore
"HEAVY 4/70's band members are veteran musicians with many years of recording and touring. The band has its own unique take on some of the most influential Hard Rock bands of all time.
A 4 band salute tribute to Aerosmith, UFO, Montrose and Thin Lizzy is the engine that fuels the bands energy which completely dominate their explosive live shows.
Hailing from the San Francisco Bay Area, the band consist of Derek Davis/Vocals – Danny De La Rosa/Guitar members of "Babylon A.D." – Mike Holsworth/Bass "Jack Wagon – Marty Schuchardt/Drums "Greg Kihn."
Saturday, June 18 starting at 9 am to Sunday morning at 1:00 am. This is a FREE event!
Happy Father's Day from The Ranch Pet Resort and Spa
All of us at The Ranch Pet Resort and Spa would like to wish a Happy Father's Day to dads everywhere!
Word has it among the pups that we have some pretty pawsome Ranch Resort Dads who will hopefully take the day to be spoiled by their hooman pups.