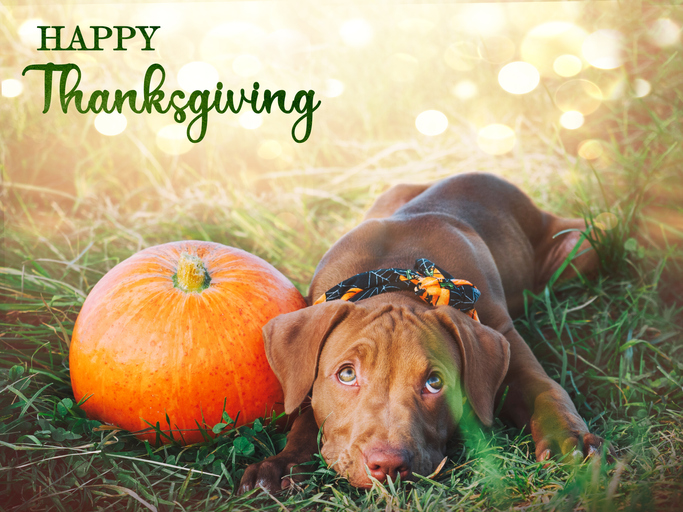 The Ranch Pet Resort and Spa would like to give thanks to our loyal clients for their continued support of our dog and cat boarding facility, dog grooming services, and doggie daycare.
We are honored to be your chosen pet destination and enjoy watching over your fur babies while you are at work or play.
We hope that this Thanksgiving you and your best furry friend will take time out to sniff the roses, take long naps by the fire, splurge on something that makes you happy, and run like no one is watching you chase a squirrel.
Tips for a Safe and Healthy Holiday Season
While it is tempting to want to treat your bestie with some of mom's finest cooking, please remember that your precious feline and canine are not used to the richness of grandma's stuffing, Aunt Julie's sweet potatoes, or Uncle Joe's pecan pie.
Feeding your pets your Thanksgiving diet is not healthy and could lead to some serious digestive issues that could make your holidays stinky and require an expensive vet visit.
For some holiday tips to make this Thanksgiving safe and vet-bill free as well as food not to feed your cat or dog, please refer to our blog, Holiday Tips for Your Dog or Cat.
Grab Your Dog and Join the 2021 Tri-Valley Turkey Burn
That's right, you heard us! Before you feast, burn off the calories at the 2021 Tri-Valley Turkey Burn. This 5k/10k fun run, walk, stroll will take place on Thursday, November 25 at the Ken Mercer Sports Park in Pleasanton. Dogs and strollers are welcome! Sign up today!