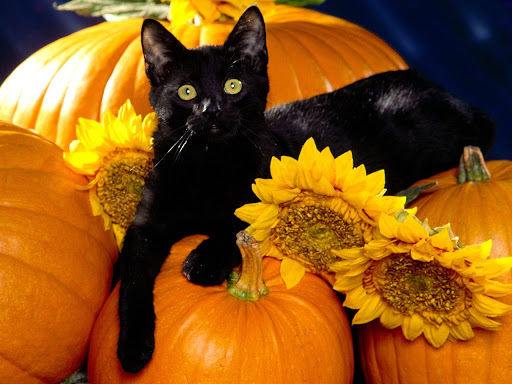 With Halloween just around the corner, The Ranch Pet Resort and Spa in Livermore is feeling the excitement in the air!
Part of the allure and fun of Halloween is the association of spooky ghosts, playful pumpkins, creepy skeletons, and scary witches and monsters. Black cats, one of the most well-known icons of this holiday, have played a huge role in Halloween beginning in the Middle Ages.
Once thought to bring bad luck, black cats were associated with witches and witchcraft, drawing an unfair superstition to these amazing, beautiful creatures.
The truth is, black cats have some very unique qualities and associations that make them stand out from other cats. Ask anyone who owns a black cat, and they are sure to mention how their dark fur baby stands out from any other cat they have owned.
5 Reasons to Own of a Black Cat
1. Contrary to popular belief, black cats are believed to bring luck, prosperity, and love in certain areas of the world. If an ebony feline crosses your path in England, Ireland, or Asia, you are considered to prosper from good luck (source). Lucky enough to have a black cat show up at your doorstep in Scotland? You are going to be rich!
Japanese women, according to an article in the Spruce Pets, are more likely to attract a suitor. Looking for a date? Get a black cat!
Getting married in England's Midlands? Expect to receive a black cat as a wedding gift as they are associated with bringing good luck and happiness to the bride.
2. The fur on black cats can turn beautiful colors. Black cats' fur, like any feline fur, can turn grey or white with age, but the color change is more visible on a cat with black fur. If your black beauty prefers to lie in the sun, its fur may show signs of a beautiful reddish-brown color. The sun's rays break down the melatonin in the fur temporarily to reveal beautiful rusty colors. (Leader Blog)
3. Black cats have a better immune system than other cats. Researchers at the National Institutes of Health discovered that black cats are more resistant to illnesses such as Feline HIV which in turn can make them live longer. (source)
4. The eyes have it! Black cats have more melatonin in their eyes and can come in intoxicating colors of gold, green, or blue. (source)
5. Black cats are the least likely to get adopted, so if you want to make a huge difference, adopt a black cat and its partner. Cat owners know two cats truly are better than one! Think of all the cool names you can come up with when giving your new black feline their own identity!
Need a Vacation Home for Your Black Cat? Let The Ranch Pet Resort and Spa Help You!
The Ranch Pet Resort and Spa is Livermore's answer to your vacation needs. We board cats in our brand new, state-of-the-art facility in Livermore's beautiful wine country.
Your furry feline will indulge in four-level cat accommodations and have plenty of room to sprawl, play, and sleep! Don't worry about any canines disrupting your cat's vacation stay, as our cat room offers its own private space.
Do you need a place to put your feline bestie for a purrfect vacation? Check out our cat boarding details.