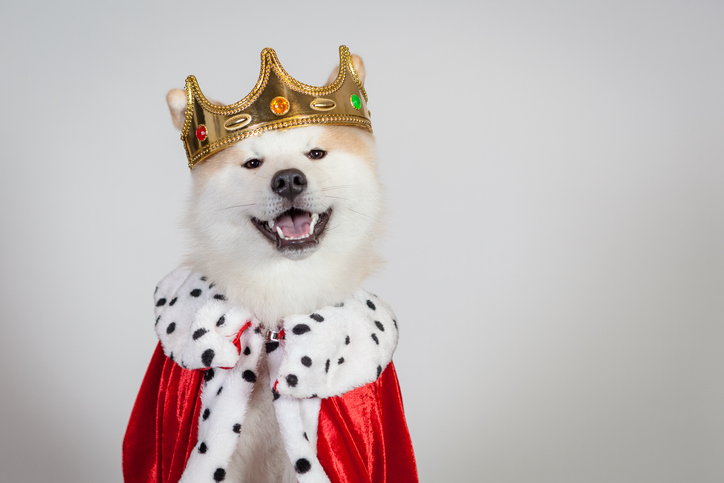 Halloween is next week, and if you're like many, you enjoy dressing your dog up to go Trick-or- Treating with the kids or staying at home to pass out candy.
Finding just the right costume for your dog can be a tricky ordeal, between trying to keep the costume in place and not having your dog try to wiggle his way out of it or eat it!
If you're one of the lucky few whose dog fancies being dressed up, the Halloween costume may be a bit easier for you to keep on. With a little imagination, some cooperation from your dog, and just a few materials, your dog can be the center of attention at your Halloween festivities!
Thanksgiving Turkey Dog Costume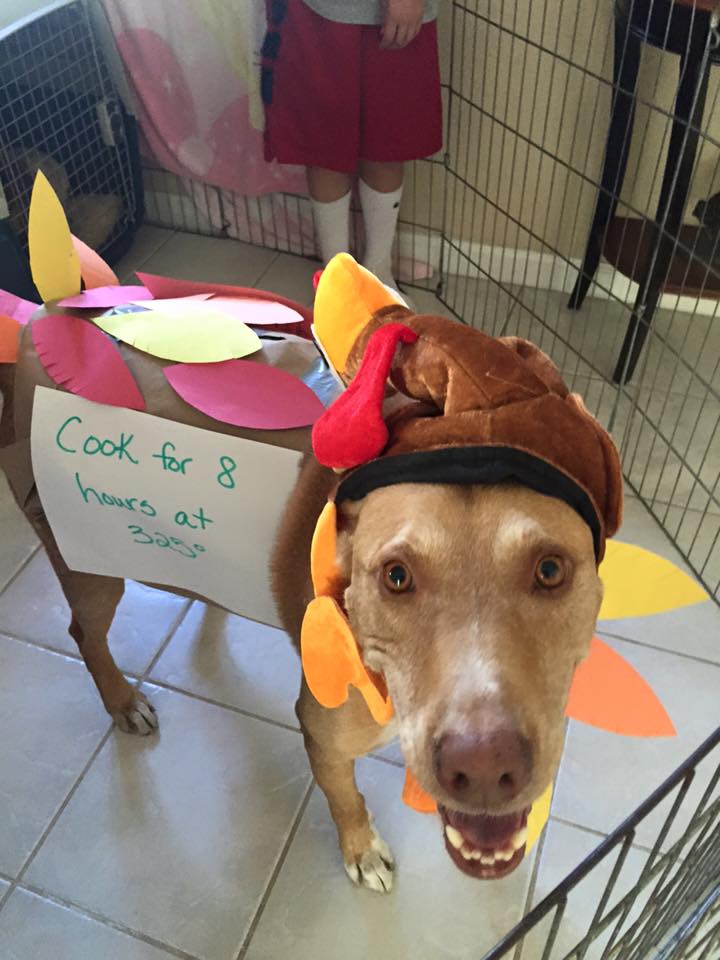 It's not Thanksgiving yet, but this Thanksgiving Turkey Dog Costume always gets a lot of laughs. For the more mellow fellow or lass, having a brown paper shopping bag taped around the middle isn't a big deal. The paper bag can be loose enough so your dog doesn't feel constricted but does serve as the main body of the turkey.
Simply cut the handles off a brown paper bag or tape two together, depending on the size of your dog, cut some feathers out of construction paper, write directions on how to cook the turkey on the side of the bag, and secure the brown paper bag together with tape.
For example, your directions could be, "Bake at 350 degrees for three hours. Let cool. Slice and enjoy!" For smaller dogs, you might just add, "Heat and serve!" Whatever creativity you want to add makes the costume that much better.

Should your dog be patient enough to allow a head dress, you can make a turkey head out of cardboard and tape it to a headband and place on your dog's head. Or, in our case, we repurposed a turkey hat and tied it around our dog's head.
Our dog was very patient and loved the attention and luckily, didn't try to eat the costume. We did have to make sure that the bag allowed him to go to the bathroom which we learned the hard way!
Athletic Pup! or Princess Pup! Costumes for Little Dogs
With so many stuffies having their own outfits, especially if you ever shopped at Build a Bear Workshop, you have your choice of Halloween outfits. Consider using one of the t-shirts or outfits from your children's stuffed animals or dolls to create an athletic pup.
Most of the clothes that fit a teddy bear or doll will be comfortable for a tinier dog to wear. No need to purchase one of the expensive costumes from the pet store if you have one already being modeled by a stuffed animal.
Make sure there are no small buttons or ribbons that can easily be swallowed by your fur baby.
Repurpose a Dog Sweater to Make a Costume
If you have a sweater, jacket or coat already that fits your dog, consider repurposing it to make a costume. Draw some bones on white paper or fabric, cut them out, then glue them to the outfit to make a skeleton dog. Or, for a more permanent effect, apply paint to the fabric and create a skeleton or skunk!
If you want to really be creative, you can always embellish the dog sweater and sew a fin on it to make a shark; stuff some colored socks, draw "M's" on them for MnM's, and velcro them onto the sweater; cut out circles from black felt or stripes from brown felt and make your dog into a spotted leopard or tiger! The possibilities are endless and affordable!
Hawaiian Shirt Dog Costume
Dig out that Hawaiian shirt you wear only once a year and put it on your dog. Secure a lei around its neck and your dog will be hula dancing in no time!
Rocky Balboa Dog
Take a sweatshirt and put your dog's front legs through the arms of the sweatshirt. If the sweatshirt zips up, zip it up; if there is a hoody and your dog allows you to put it on, you can put on the hoody, add some sweatbands to the ankles, and you have Rocky Balboa in training!
Accessorize Your Dog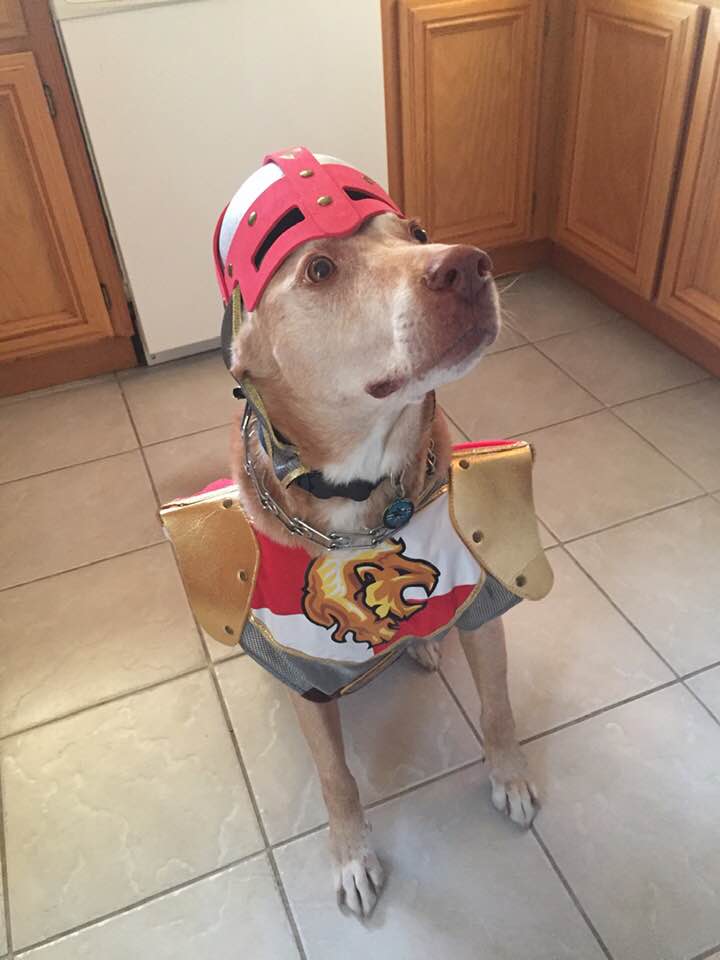 Some of the simplest accessories can make a darling dog costume. Adding a scarf, hat, boa, bow tie, veil, crown, or play jewelry is a simple way to turn everyday accessories into a costume. These work especially well for animals who may not feel comfortable with something around their body.
Bat Dog
This costume works really well if your dog has a harness. Paint a piece of cardboard black, draw bat wings on it and cut it out. Attach the bat wings to your dog's harness by cutting small holes in the middle of the wings and securing the two together with zip ties or string. Your dog will be strutting the streets looking for Robin and the Joker.
Have a Safe and Happy Halloween
The Ranch Pet Resort and Spa wants all of you to have a safe and happy Halloween. Your dog's safety is our primary concern, so make sure he can walk safely, see clearly, and be comfortable.
Don't be surprised if the costume doesn't last long, unless you have a warrior who is used to dressing up! Take lots of pictures and share them with us!
Also, just a reminder chocolate can be deadly for dogs or at least give them an upset stomach, so keep them away from all of the candy and goodies.
Enjoy yourself and have fun!